Pedestrian Ramblings
SWM
November 28, 2018
Deer Camp
An Ongoing Tradition
Sitting at the cabin evening reflecting on years past. My cousin Kieth and I started deer hunting with my pop and my uncle Marvin when we were 12 and 13. That was 50 years ago. 
I always think about the times spent in the field with a myriad of family and friends past on the night before the opening day.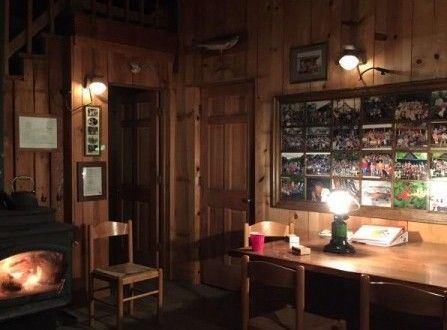 Good memories.
 Anyone who has been involved with cold weather, outdoor activities is well aware how quickly clothing and gear came accumulate preparing for various conditions, especially if it is a multi-day trip. I've spent the past few days gathering up things that have carefully and methodically stored in a number of places. The barn, the basement, the bedroom, the office, and the storage locker. While I have taken some time and thought, in how and where I have put things away, I haven't always done a good job of recording or remembering where they are stored. So there is a great deal of walking back and forth, going up and down steps, consolidating and sorting. It's really a ridiculous process, but it is a process, and that is part of the tradition.   
When Uncle Marv and Dad started deer hunting in Ohio, deer were not abundant across the state, and they drove to south central Ohio, where the deer were plentiful. They slept in a truck camper the first year, a primitive log cabin with some friends the second. When Kieth and I started coming we used a combination of campers and tent camping. We would take a mountain of, by today's standards, primitive gear. 
I frantically go about my treasure hunt, looking for various odds and ends, bringing them to a central collection area to sort into, essential, backup, this might be nice to take, and the, I never use this and why do I still have it, categories. So many of these things were given to me by family and friends, and each time I pick up one of those items, my hurried demeanor shifts into a warm moment of reflection. I think about that person and how I happened to receive this little reminder of our relationship, leather suspenders, a knife, a wool shirt. And these feelings continue to accumulate as I pack. And this was the "concept" behind the song on Arrow Creek, Wrapped Inside Your Love. The notion of associating the love of friends and family with gifts.