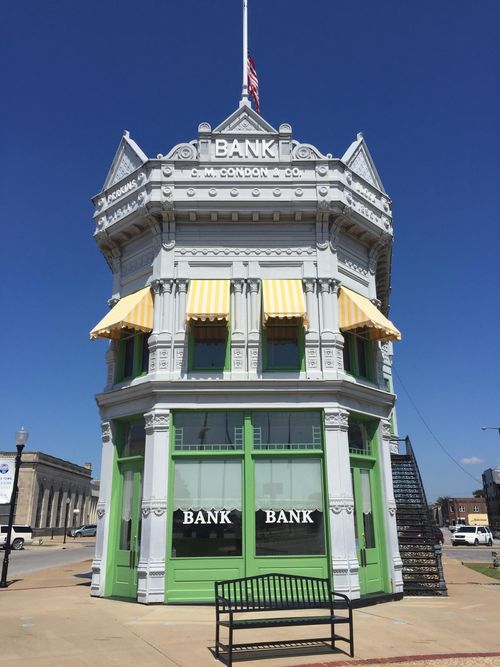 Coffeyville Community College Humanities Project
Fall 2019
During the process of self-evaluation I decided this year I would get involved with more professional music organizations, so this spring I joined Folk Alliance. This is an international organization and I attended one of their conferences several years ago. It was held in Cleveland and was a great experience and this seemed like a good organization to plug into. The Midwest region of the Folk Alliance is called FARM and they have an annual conference in October so I signed up. In short order, I started getting notices about performing at showcases at the conference, internet radio programs looking for new folk material and other opportunities. One notice caught her my eye, a call for proposals from Artists of Note to perform for the Coffeyville Community College Humanities Project. Over the years I had heard about this and know a few folks who have performed there. I responded to the email and requested additional information. The program has been going on for a number of years and is a really interesting idea. Coffeyville is a fairly rural community and this program provides an opportunity to a couple of dozen artists to perform for the college, and while they have you in town, to do another dozen shows or so for several community centers, assisted living facilities and the local high school.
I thought this was a beautiful program idea and put together a proposal for a musical program based around nature, the identity of place and community. Joann from Artists of Note immediately got back to me and we started discussing the time slots and my availability. While Joann was evaluating my bio, she discovered that I was a fly fisher and asked if I could incorporate fly fishing into the program? I told her that the Rivers and Trails CD was predominantly about fly fishing and I certainly could do that, but due to my existing commitments, I could only perform the second week of September. And if we were to put something together, I would have to leave early Sunday and drive all day to get there in time for the first performance. Long story short, within a few days I received a nice packet of information in the mail, including a contract, and I started working on a presentation.
Madewell Music and The Dive Kings played at the Ridgewood Tavern in Concord on Sept 7th and at 6:30 AM on the 8th I started off on what would prove to be a pretty uneventful drive. Google maps indicated that it would be a 14 hour ride so allowing for the change in time zones I figured I could get there around 7:30 in the evening. I hit very little construction and had pretty light traffic for the entire trip. I cruised into the Regal Inn right at 7:30!
The hotel was an independent, privately-owned business that was one of the suggested housing options listed in the information I had received earlier. When I called for a reservation, the man on the phone told me, he would have a room for me whenever I arrived, that he was the owner and he lived there. I asked him if he needed a credit card number for the reservation and he said, "No you have a room reserved sir." And I thought, "Something to be said for small towns". He was just as pleasant in person and asked if I was a musician. He said many of the artists stay there and he had a ground floor room with an extra-large parking spot so I could easily haul instruments and equipment! He was also very proud to tell me that there were sticky buns and coffee available every morning until 9:00. 
Joann had done a pretty good job explaining that some of the audiences would be small and judging from the names on the performance roster I had an idea what the facilities would be like. I had also emailed my old friend Andy Cohen, who has played Coffeyville several times requesting information about the program. Andy was very supportive and offered a number of helpful suggestions. I put together a program that I felt would allow me to talk about the stress of everyday life and how spending time outside could mitigate anxiety, how we all spend too much time staring at screens and how kids don't play in the out of doors. I folded some information published by the Harvard Medical Association on the meditative effects of fly fishing. 
My first performance was at the Coffeyville Meal Site and I had about 18-20 folks. They were attentive, interactive and enjoyable to play for. I would say they were all over 50 with a half a dozen ladies in the group. I had worked up a setlist which started with "Wound Too Tight" which provided a platform to talk between songs about the challenges of everyday life, and how being outdoors could help mitigate some of those challenges. I slipped in Taj Mahal's "Fishin Blues" and talked about going fishing with my dad as a youngster, how I got involved with fly fishing and how that is an activity I still pursue. I had brought some gear including a short fly rod, and took a short break in the middle of the set to go over the what makes fly fishing different from other types of fishing and did a simple casting demonstration. The set continued with a half dozen additional songs tying history. After I finished, the ladies in charge of the operation invited me to have lunch with everyone, which I did,  and I was feeling pretty good about the first performance. One down 13 to go.
With a few hours to kill, no pun intended, and you'll see why in a few more lines, I thought I should check out the Dalton Museum. After all, as I found out from trying to get to know a little something about Coffeyville, it is famous as the town where the Dalton gang got shot up. I had noticed when I pulled in to the Meal Site that I drove right by the museum. So I pitched my stuff in the car and walked over to check it out. So many times I have found small museums like this have very limited hours so I was happy, and a bit surprised to find that it was open! The door opened into a foyer of sorts, with a large diorama of a late 1800's "western cowtown"  city street. The entrance door was another few feet further down a wooden boardwalk. I was immediately greeted as I walked through the door, by an enthusiastic although apologetic lady, who told me I was welcome to come in, unfortunately, most of the exhibits were packed up. They were in the process of moving to another building across the street. We had a pleasant chat as I strolled along with a long glass case filled with commemorative Colt revolvers. All were beautiful guns, named after western figures or events, with pearl, ivory or engraved handles. Somewhere stainless steel and others were deeply blued or nickel silver. She said all of the Dolton's guns were put away pending the move and she didn't mind because it saved her the trouble of getting them out and locking them back up every day. She said I might like to watch a very good video that lasted about 45 minutes that she was just getting ready to start. She was right, it was informative and very well done. It was produced by, or for the History Channel. The video was one of those dramatic recreations with the cut-a-ways to a collection of historical scholars, who added narrative based on their research and understanding of the time or event.  It's a great western story that touches on the conversion of a cattle town to a farm community, the conflict between lawmen and outlaws, and some town folk coming together in a time of crisis. Evidently Bob Dalton had come up with a plan to simultaneously knock off two banks that were right across the street from each other. The execution was complicated due to road construction. The hitching post downtown was temporarily out of service forcing the Daltons to tie their horses up in an alley a hundred yards or so further away from the banks. Long story short, in spite of their fake beards, the Daltons were recognized by one of the shop owners and he alerted several other people in town. The owner of the local hardware store started passing out guns and ammunition and when the outlaws tried to make their getaway, there were several armed men waiting for them. There was a 12-minute shootout resulting in four townspeople getting killed as well as four of the five bank robbers. 


After watching the video, I walked outside to check out the scene of the crime. One of the banks, the alley, and the hardware store are still there. The Chamber of commerce is currently located in the remaining bank and Hisham's Hardware is part of the True Value franchise. I have a thing for old hardware stores and decided I had to stop in Hisham's. I mentioned to the two clerks that I just left the museum and the fellow started talking about how some people wanted to talk away our history, clearly talking about the controversy surrounding the confederate statues. I wasn't about to engage in that conversation but I thought it was more than a little ironic that there is a very nice bronze plague where each of the townsmen died, and a blue "chalk" body outline where each of the outlaws fell.
I had two more performances scheduled for the afternoon, one at a very nice apartment complex and the other at an assisted living facility.  I took the time to drive around town and get to know my way around town, including checking out some of the other performance locations. There was the downtown historic district, a number of renovated as well as closed storefronts, the community college campus, a couple of strip developments, the box store shopping complex right outside of town, a couple historical agricultural and manufacturing business centers, and the refinery. The commercial strip reminded me of the James McMurtry song, "I'm Not From Here". The community college and the legacy of the shoot out are the things that make Coffeyville unique. And it also seemed to me that Coffeyville has quite a few churches and quite a few liquor stores!
The remaining performances were very pleasant, and I had a wonderful conversation with a woman who used to fly fish with her husband in South Dakota. The last presentation of the day was done at 4:00 so I intended to explore the countryside. I told one of the fellows in my last audience I want to do, and he said "Well, if you don't get around to it, you won't be missing much. Lotta farmland out there." Which of course I already knew. The landscape actually reminded me of southwestern Ohio when I was a kid. Some rolling hills, and in addition to the row crops, there was a lot of hay and pasture land, only the fields were bigger and there were prairie relics alongside the roads. Tom Paxton wrote a song about the Verdigris River which flows by Coffeyville, or should I say, the town was built alongside the Verdigris. There are large flood control dikes alongside the river and consequently, the down-cutting of the waterway is very noticeable. Even so, the community has experienced several serious floods in the past15 years. I thought about going fishing but opted not to. The thoughts of navigating down the dike and the hassle of getting a license were enough of a deterrent. In retrospect, I can see it is those small barriers that contribute to the decline of hunting and fishing licenses.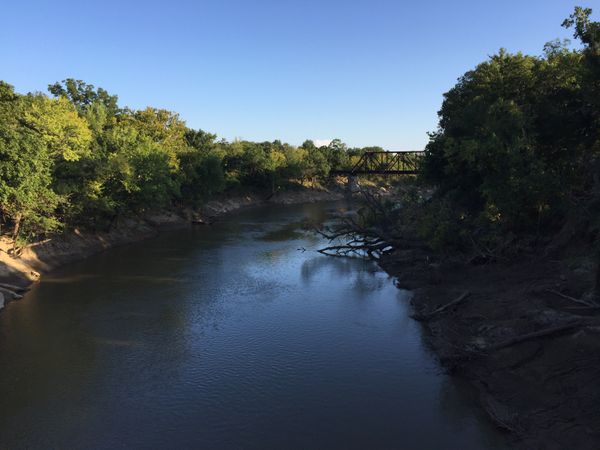 Tuesday morning was the performance in the college theater. I have spent considerable time thinking about crafting a message to encourage people to get out of doors and how to incorporate that into my performance. I realized that one challenge I needed to overcome was that some of the older folks weren't able to get out of doors, so I had developed an idea to modify my delivery for the senior programs to talk about their childhood experiences as compared to the way their grandkids are growing up. After doing three on Monday this seemed to be working! The college presentation was going to be full-on: get outside, find a life long outdoor activity, this is important to help you cope with the stress of day to day living and fly fishing is a great activity to help you do both. And with a little modification, this was the same message I would have for the high school students. So I was anxious to try this out! 
In addition to students from the theater and humanities programs, there were quite a few folks that weren't affiliated with the college. I arrived 45 minutes before showtime to get a soundcheck and everything dialed in. I walked into the theater and introduced myself to Ginni Phillips,  the Humanities Project Coordinator and Ryan Mahanah, the Director of the Theater Department. I was immediately asked if I played fantasy football!  And there was a healthy conversation going on about the blowout between the Titans and the Browns! Was I a Pat's Fan, Did I buy into the Browns hype... Evidently Coffeyville is far enough away from any major sports teams that people feel free to align themselves to teams of their choosing! And later in the week, I came across a shrine to the Pittsburg Steelers. What can you say? Football in America!

I was excited to talk with Ginni and very interested in finding out more about the structure of the program how it was funded and who's idea it was.  She told me she had only been in this position for a few years and really didn't have much history to share, and that Joann from Artist of Note would probably know more about how the series is funded and when it started. It is a great idea and could be a wonderful program for other communities to emulate.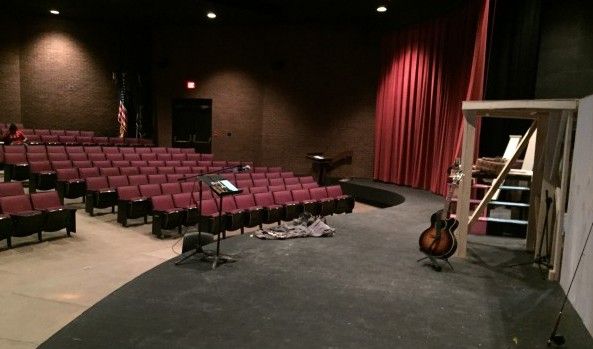 It is a nice theater and Ryan was very accommodating in spite of having a cast on his foot. He set me up with a guitar mic and a headset so I could walk around during my fly casting demo. Just as an aside, whenever I do a show wearing a  headset mic, I am a nervous wreck about what might come out of my mouth! People who know me, know I have the tendency to mutter all sorts of colorful statements under my breath, and of course, with a headset, it is all out there! I don't think I embarrassed myself this time and had a comfortable performance for 60-80 people! I packed up and headed off to performances, 5, 6 & 7.  
The next two performances were for senior centers and the final one was a facility that I assume was for early Alzheimer's or dementia patients, but I am not sure. At this point wanted to make every effort to make some connection with these folks and I started to modify my setlist and slip an occasional cover or traditional song in there that hopefully, the residence would recognize. It worked wonderfully. I mean as much as it is such a major reward to touch someone with an original song, the objective for a performance like this is to bring a little joy into someone's life.  By the time I was done, I was indeed done. I felt like I had driven 14 hours and played 7 shows in three days!
I haven't spent that much time in Kansas, but it seems that the majority of the time that I have been there it has been hot. And this trip was no exception. Every day, the sky was bright blue and the sunshine was relentless. I was a little surprised with the lush the vegetation but after a few conversations I was told this has been a wet year for SE Kansas, and folks were complaining about humidity and allergies. I had never been in this part of Kansas before, but have a bit of a familial tie to the area. Following the Kansas Oklahoma border due west, in the southwest corner of the state is a little town, Elkhart. That is where my grandfather had moved his family right before the dust bowl began. He sold his interest in the family farm in Tennessee and moved out to the Oklahoma/Kansas border. He bought a threshing machine and intended to do contract combining. Ken Burns' documentary drama "The Dust Bowl", tells the history of the "big plow up". My grandfather used his machine one year and there was so much surplus grain there was no market nor storage. He contracted dust induced pneumonia the next year and died. My grandmother came back to Tennessee with nothing. Her older children went to work, my father who was 6 fished and hunted for food, and this segued into how I was brought up fishing. I shared my connection to Kansas with a few of my audiences and that elicited a few greats stories in return. 
There were three performances scheduled for Wednesday, two at apartment complexes and one assisted living facility which was for small audiences. I was having lovely conversations at each stop, one lady told me about her and her husband traveling the country in an Airstream and how her daughter is still using it. Some of them were singing along with the occasional cover song, and they all seemed to enjoy my short fly casting demo. By this time I had a pretty good delivery worked out but tomorrow I would be delivering five performances for high school students.
The Caney Valley High School is about 20 miles west of Coffeyville. I drove out Wednesday afternoon so I would know where the school was and how long it would take me. My first class was at 8:05 in the morning. On the way back into town I passed a small roadside shop selling produce and pastry. MJ had given me a specific request to pick up a watermelon if I could. Sure enough, I saw a pile of melons on a wagon under an umbrella so I slammed on the brakes, backed up and pulled in. There was a man sitting at a desk inside the small building. He had a headset on and was sitting behind a computer screen with various views outside and inside his stand. I asked him if the melons were any good and he told me they were the best melons in the nation. He drove all the way to Missouri to get them from the Mennonites this year because for some reason the local Amish didn't plant them. They were large, stripe-less, dark green, seedless watermelons. He went on to tell me that they were so sweet that they would shock a diabetic. One of his friends told him she couldn't eat them or she would have a reaction and that one of his neighbors had to go to the hospital after eating one of those melons. I told him a trucker once told me after an all-night party that watermelons were hangover medicine. Simple sugar, water, electrolytes and enough fiber to keep from sloshing around in your stomach. He said he never heard that but it was good to know. He had given up drinking because he couldn't stand the way he felt the day after and would have to remember that just encase some attractive lady should happen to proposition him as that was about the only way he would ever get drunk again. And he added at his age, that was a highly unlikely proposition. 
I  asked how much and he said $11. I told him I would take one, and he said I had just made my first mistake of the day. He went on to tell me that people do it all the time with tomatoes. They get home and after the last bite is gone they realize they should have bought more. So I asked if he would take $20 for two and he answered he would do that all day long. So I went out to pick out two, under surveillance I might add, and when I picked up the first one I darn near jumped out of my shoes when a cat hissed at me. It was laying behind the stack of melons and wasn't at all pleased that I was disrupting its afternoon siesta. It was a memorable stop. 
The night before when I was driving around, I came across a really interesting bridge and I thought it might make a good picture. After dinner, I retraced my wonderings and pulled over to see what I could do. It was 92 degrees and about 6:30. I had never seen a concrete bridge quite like this and with a little bit of trial and error, I figured that I could get an interesting selfie. At least I would entertain myself with that notion! Between the traffic, trying to find the right angle and getting my phone propped up I had a heck of a time.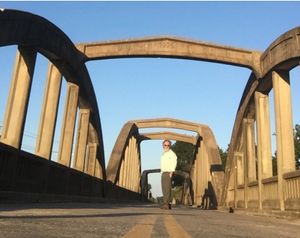 The next morning I was standing in front of a group of high school students at 10 minutes after eight in the morning, and started off with Chris Stapleton's "Where Rainbows Never Die". I figured that the opening line my be a good dialog starter: "I'm an old man I can't do nothin'. Young folks, they don't pay me any mind". And that is the way I kicked off my series of performances for the Caney Valley High School Juniors and Seniors. Their mascot is the Bull Pups, and the logo incidentally looked just like my high school mascot 45 years ago! 
After wrapping up with the school, I had one more community center to do. I noticed another watermelon stand with stripped melons and thought "What the heck!" and bought one from an old man in a cowboy hat who was missing about half his right hand. I figured there was a good story behind that too but I didn't have the time to find out. I did my last show and drove east out of Caney, back to Coffeyville and on toward Ohio. There were some ominous looking clouds out to the west and I thought with a little luck I could keep ahead of the storm. 
I was thinking that I could probably make St Louis by 10:30 and depending on how I felt, get a room or just keep driving. I am certainly not averse to pulling over at a rest area and sleeping a couple of hours and have done that many times. But I found a Sirius radio station, Deep Cuts, that was keeping me entertained. The program structure is all B side tunes and it is really amazing how many very good musicians have recorded some really bad songs. There was one song by Pink Floyd that stood out because it was for all intent and purpose U2's sound. The song was lame but it sounded just like the Edge's guitar work. I was also entertained by the billboards coming into Uranus, Missouri. At least some folks in the area have decided to own the unique name of their community. The first sign that caught my eye was advertising one of the newest boutique sporting trends in the country, ax throwing. "Stop by the Axe Hole In Uranus, Missouri. And then there was a billboard that proudly claimed the best fudge comes from Uranus! I'm not making this stuff up. 
I was wide awake driving through St Louis and decided I would just keep driving. If I got tired I intended to catch a few Zzzz at a rest stop. I was hitting some large stretches of construction, but traffic was really light, and moving right along, and I thought, better to deal with this tonight than fight with stopped traffic tomorrow. The first goal was St Louis, then the Illinois state line, then the Indiana state line, then Indianapolis, and by that time I knew I could make my folks house in Dayton. Of course, I would be getting there before sunrise so I would still wind up sleeping in the car. 
At 5:15 I was getting a bacon egg and cheese biscuit at the McDonalds on St Rt 48 just south of Interstate 70. At 5:30 I was trying to see just how comfortable I could get in the reclined front seat of the CRV. I woke up and my watch said 8:30.  The folks normally don't get up before 9:00 so I thought I would go sit on the back porch. I took my phone with me and started to text MJ to let her know my whereabouts when I realized it was 9:30! I forgot about the time zone change I had driven through. I had slept for 4 hours! My pop answered the phone when I called and I told him I was standing by the back door and he said he probably ought to let me in. 
The experience of spending a few hours playing music and entertaining a large array of seniors over the past few days really made me appreciate how remarkably well my folks were doing. my mother will be 90 her next birthday and my father is 95. They are living independently and much to our chagrin are still driving. Their back yard is an explosion of colors from all of the flowers mom plants and dad has random plantings of green beans, tomatoes, and cucumbers. 
I spent the morning just hanging out with them and took mom up and back to the salon to get her hair done. It was a nice bonus to get a short visit in with the folks, especially with a heightened sense of appreciation for how well they are doing, but with about three hours and forty-five minutes to go, I was anxious to get back on the road to home.
I spent the majority of the remainder of the trip on phone calls catching up and getting things confirmed and lined up for the next few weeks. I was looking forward to a good nights sleep, a day off and then back at it with performances Sunday at a winery in Geneva on the Lake,  community concert Wednesday evening in Medina, two festivals dates and a private party the following weekend... 
It was a good trip.      
My notes from the Dalton Museum:
The shoot out occurred Oct 5th, 1892
Coffeyville started as a trading post-1869 
By '72 became a train rail-head town to ship cows
Oklahoma territory 
Red hot street
Gambling prostitution murder
Cattle and cowboys brought money
Between 1871-72 pop doubled
Farmers replacing cowboys
By 1890s was a farming town no one carried guns a religious town
Daltons lived there for a couple of years. Adeline Younger (from the Younger gang that ran with Jessie James) married Luis Dalton (a looser) and had 15 kids
Her oldest son Frank 25 was US deputy under hanging judge Parker 
Greg his younger brother worked with Frank too. Frank got killed in the line of duty and Greg had a dispute over pay.
The younger brothers started stealing horses and turned to robbing trains and by 1889 were serious outlaws 1890. US marshal Tec Thomas was after them
They also violated the code of the west when they killed two doctors and had widespread public animosity toward them:
"Don't  bother a good woman and don't hurt a preacher or a doctor" 
Bob Dalton hatched the plan to rob two banks and wanted to become more famous than Jessie James
Grat Dalton was older, but not a leader and drank a lot 
21 Emmet Dalton was the youngest of the outlaws.
Bob Dalton saw this as their last holdup to make money fame and would leave the country after the Oct 5, 9:00 AM 1982 raid
In early October after the crops were sold, the banks would be flush with the farmers' money. 
When the Daltons rode into town they were wearing fake "whiskers" so they wouldn't be recognized. They had two other partners with them. They were going to tie their horses to a community hitching rail located between the two banks. Unfortunately for them, the rail had been removed due to road construction, so they tied their horses up they nearby alley.
 As they walked out of the alley, they were recognized by one of the shop clerks, and when the gang split up going into each bank, he realized what was going on. He told John Clair the livery owner and a known sharpshooter and also the owner of Isham's hardware store
Isham started passing out rifles and ammo
Condon bank stalled for 15
The first national  started the shooting
15 armed citizens shooting
4 citizens dead three more wounded
Emmett Dalton had 23 bullet wounds but survived, recovered, and spent 14 years in prison 
John Clair "The world loves men who do their duty well".