Pedestrian Ramblings
SWM
December 24, 2018
Christmas 
A Life Time Of Ornaments
I reflect on the past this time of year more so than at New Years. These reflections were enhanced last night as MJ and I were decorating the tree. First, I have to say I bought the most "Charlie Brown Christmas Tree" ever.  Tall, spindly, and asymmetrical! It looked good hanging up in the lot, but as soon as I pulled it out of the truck I knew I had a bit of a problem. You see, my contribution to holiday preparations is fairly minimal, and I live with a homemaker that rivals Martha Steward in style and taste, but with much more compassion and grace. I was a bit panicked for delivering inferior goods.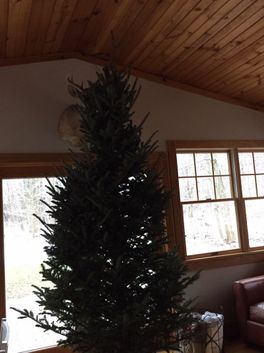 I immediately texted the girls, hoping that I could get some mental and emotional support from my daughters. I pleaded that the cold and lack of food had clouded my limited tree selection skills, and after digitally rehearsing my spiel, I put the word out to the master of holiday ambiance, that I had chosen poorly. To my relief, I was assured it would be alright.  
In years gone by, this may have been a bigger issue than it seemed to be this year. It might have been resolved by getting another tree and decorating "Charlie Brown' outside for the birds. But this year, things are a little different. Our kids are grown, our niece and nephews are in college, and our grandson is the only youngster in the family. Still, we will be hosting extended family tonight.  
We have evolved our present exchange to a gift swap, so there is no longer the madness of excessive gift giving, but there will be exceptional food and the lovely aura of the holiday, brought about by decor, music and the gathering of family. Even though we are certainly in the process of diminishing the hoopla, I am unsure of how all of these things are settling.   
After considering cutting a foot off the tree, it was determined that it would be OK, and I brought up five storage bins out of the basement marked Xmas, and MJ and I began to select and place ornaments on the tree. They clearly represent our life time together. She had made ornaments for our first tree, fabric birds, presents, snowmen, and other holiday shapes. They bring back clear recollections of that time, how little we had, and her commitment to making our apartment a home.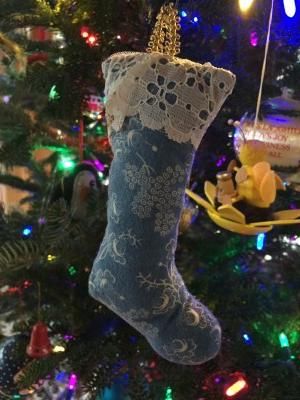 As the years went by, we assembled a collection of ornaments that reflected our growing family, school projects, increased prosperity, vacations and trips, relocations associated with work, significant friendships and various park projects. With each one I touched, thoughts and images came to mind from these times past. How lovely. 
This past year has been a good one in so many regards. While I am still adjusting to my personal re-direction after leaving the public sector, I have been busy. I had 78 performances this year and several presentations. One of the highlights being my show for the New Mexico Park and Recreation Association in Santa Fe. There have been a number of other delightful engagements, and I have really come to enjoy playing music and performing with my son Phil. We have really shared some great shows. The muse' have graced me, and I have written some very good songs and made several good recordings. I was fortunate to work with Bill Lestock, who is a remarkable talent, to collaborate with Caroline Quine, and get ongoing support from Alex Bevan, my brother Jeff Madewell and a host of other musicians. One of the new songs was favorably reviewed by Reverb Nation, resulting in a slot next April as a featured songwriter. 
On the outdoor front, I caught a giant permit in Belize, which many folks regard as a fish of a lifetime, and I was also able to travel to Labrador and fish in the boreal forest. That was a life list experience for me. And while I haven't completely checked out of the conservation world, I am torn between continuing to dial my involvement back or becoming more engaged. I am on the board of a couple local conservation organizations, and one state and one national organization. My involvement with institutions is a bit of a conundrum for me. It is important work, but I am hesitant to be "full-in" or maybe slow to recognize that at this stage of life, I am full in. I do know I really don't care to go to another structured meeting. I had enough of that for one lifetime.  
One of the most important things about this year is that fact I  was able to visit with my folks without the worry of running a big park system. My pop was in and out of the hospital several times, but at 94 he is doing remarkably well, and at 88 mom is doing great. One Saturday morning over breakfast at their house, I had the realization that I wasn't worried about some personnel problem, a local political issue, or fall-out associated with a park project. It was nice to just be there.        
I have got to get busy preparing appetizers for the evening. A pork belly is in the smoker that I need to finish off, sweet peppers need to be roasted and venison tenderloins are ready to be grilled, sliced, and assembled into miniature sandwiches. I will set about my tasks, with gratitude for all of the prosperity, love and support I have enjoyed this year, and with warm thoughts in my mind and love in my heart for all the people in my life.