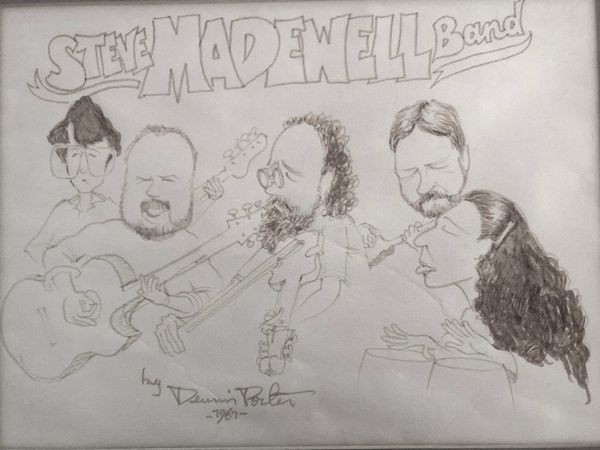 On Sunday, August 15th, 2021 I will be playing music with a collection of people that are very dear to me.  They are remarkable in so many similar yet uniquely different ways.  
I suppose playing music can be a mechanical thing. And maybe that happens too often for some players. It is a sad thing when this is the case. I know I have fallen into a pit where I turned my emotions off and was simply there putting in my time. Maybe it was a smokey bar or some joint where ten TVs were on at once, including one behind the stage. No one cared or could care about what the band was playing.  
These are crushing moments for a musician and they squarely fit into the broad catch-all category of "paying your dues."  
And there are so many other issues or events that share that category, a flat tire on the way to a show, a double booking or contract dispute, the incidental drunk, or the loud talker with an exceptionally shrill voice. It is a formidable list that goes on and on leaving one to wonder or question "What am I doing this for?"  
The converse to these trying times is the other musical moments that are so uplifting and wonderful they nearly can't be described.  
There is a magical feeling of the music leaving your body, and a part of your spirit being part of the sound emanating out into space. It is a journey that is full of exuberance and emotion, with an unknown destination. 
  
It is easy for a young person to take these special moments for granted and not realize that they may be as ephemeral as spring wildflowers. There is no guarantee that they won't vanish and never return. But as a person ages, they often develop a greater sense and appreciation of life and the treasures that enrich it. 
The joy that comes from making music can certainly enrich life for the performer and the listener, and to share such an experience with another person is such a special gift. 
To go on an emotional trip with a group of people creates a profoundly deep connection.   
I went through a brief period of life with a group of people when these profound musical experiences were nearly routine. I have never enjoyed a time quite like this since.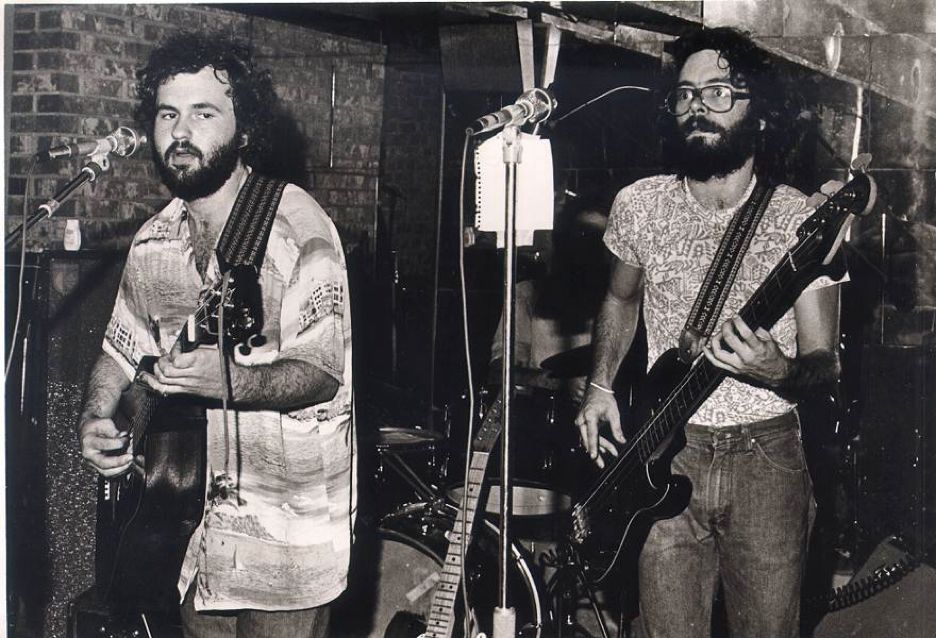 Vance 
My hometown, long-time friend, Vance Wissinger, and I have been periodically playing music together since 1970. We started with an "epic" high school band called Wissinger's Palace Magical Band, which covered everything from Chicago to Grand Funk, Joe Cocker to CSN. Then onto a few college bands and beyond. Acoustic bands, power trio's, horn bands, blues, and country-rock bands plus our eclectic duo performances. We have played together, gone on to individual projects, and then picked up a little further down the road. All the while we have been accumulating a huge collection of experiences and memories. As Vance used to say, years ago what once was all about drugs sex, and rock and roll, evolved to good food, good friends, and good music.   
Vance is not only a great bass player but also an incredible musician. He has played with so many other talented players and bands like The Pulse and John Kogge and the Lonesome Strangers. It is always a special treat to play with Vance and we had some great moments at the Trolley Stop.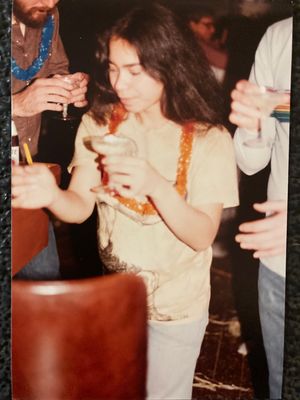 Astrid 
I was the second musical act to regularly play at the Trolley, a group called Cotton was first and Dow and Astrid were third. Cotton was a lovely sounding acoustic trio with excellent harmonies and a very approachable selection of songs. I was a bit more diverse with a few howling blues, obscure folk songs, and modified rock tunes. Cotton played Sunday afternoons and I initially played on Saturday nights and then both Friday and Saturday.  
Dow and Astrid started playing at the Trolley Tuesday, Wednesday, and Thursdays and they lit the place up. They came in with an entourage of friends and musicians that Dow affectionately called the "Toe-Jammers". Dow was a remarkable entertainer with a host of catchy, funny tunes and props to go with them. Astrid was at his immediate right, keeping time with an appropriate conga beat, singing perfect harmonies, or giving Dow a break and taking center stage. Astrid always had a comfortable presence and would occasionally grab a guitar and offer attention-grabbing renditions of some very engaging songs. Everyone loved to hear Astrids' unique contribution to the night.  
   
The Trolley was a happening place, and it was a happening time in my life. I had opportunities to play at other clubs with other people. Vance and I started playing weekends with an old high school acquaintance Roy (Hawse) Calhoun, and we created a lifetime of musician stories playing three nights a week for seven months at the Trophy Club in Vandalia before the first Roy Calhoun Band fell apart.  
When Vance and I joined up with Roy, Dow and Astrid moved to Wednesday through Saturday at the Trolley.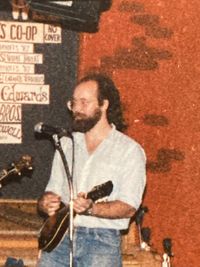 Bill  
I continued playing at the Trolley, doing gigs on Sunday, Monday, and occasionally Tuesday evenings. It was on a relatively slow weekday night that a friend introduced me to Bill Balldock. He told me Bill was looking for opportunities to sit in with someone so he could develop his fiddle chops.  
I was always open to playing with new people and in the first measure, I could tell that while he might be a little uncertain with his fiddle playing, Bill was a fine musician. So Bill started showing up and playing with me.  
Bill had a different approach to performing, he was meticulous with his gear and was one of the first acoustic players that I worked with who was committed to getting a true acoustic sound. I several years before I realized that he was a much better guitar player than I would ever be!
Since that night when we first met, Bill has had enjoyed a rich career, performing and touring with a host of musicians. He has been living in and around Nashville where in addition to playing music, has continued to work on stringed instruments and has his own shop! He currently performs with the highly regarded Americana band, Buffalo Wabs.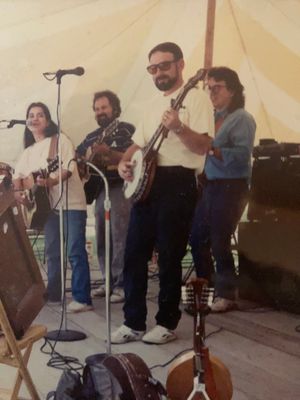 Michael 
I seem to recall meeting Michael Clutter through a mutual friend, Paul North. Paul invited me to go to a picking party at the farmhouse Mike was living at the time. Mike and I immediately hit it off and we knew a bunch of the same songs. We played together at a couple of casual parties and somehow found ourselves performing together. Mike has continued to play across SW Ohio and in the Ohio River Valley.  
The Band 
I'm a little fuzzy on how Mike, Bill, and Vance started playing together, but we were playing a pick-up gig in Yellow Springs and our drummer never showed up. (I found out later he had been in an altercation with a police officer and been "detained".) Astrid was there that night and she happened to have her congas in the car, so I asked her if she wanted to play.  
And that was the first performance of what would become the "Steve Madewell Band".  
What happened that night was very comfortable and we sounded solid enough that it was no problem to get more gigs. However, after playing together for a few months we sounded solid enough that we collectively felt an obligation to take some time off and focus on dialing in arrangements and harmonies.  
In the winter of 1986, we took three months off from playing out and simply rehearsed.  
Between playing with the Roy Calhoun Band, and my acoustic shows, I was making some serious cash in the early 1980s' but when the first Calhoun band split up, I was scrambling for income. Fortunately was able to get a job with the Greene County Recreation and Parks Department. While the job didn't pay much, a housing option was included and we moved into a brick cottage at the Narrows Reserve in Beaver Creek. 
I had been working for the Greene County Park system and living at the Narrows for several years when we took our rehearsal break and it just so happened that an old farmhouse was being converted into a visitor center. My boss allowed us to rehearse there before the building was open to the public. 
When we came out of this focused rehearsal period we were like a new band. Our instrumentation was better, our harmonies were on and we had become dear friends.  
Our first performance after this break was at the Trolley Stop.  
There was a full house that night, which was not unusual, but the room got quiet when we started to play which was remarkable. I had played hundreds of times at the Trolley Stop and never experienced anything quite like that.  
After that first performance, I had no trouble getting us booked and we played at several clubs that spring. I was able to record a number of those shows.   
In preparing for this upcoming performance, I pulled those tapes out of storage and after 30 plus years 2 of the nine cassettes were not listenable. Of the remaining 7 four had some tape degradation or were marginal mixes, but three played pretty well and I was astounded with how we sounded.  
   
Leaving Dayton 
I have always cared about the environment and when I got the job with Greene County I was provided with an opportunity to nurture and grow that concern. I felt an obligation to do whatever I could do to change people's attitudes and appreciation for nature. What started as a commitment to environmental education ultimately developed into a passion for buying and preserving open space and I was determined to leverage whatever skills I had, as best I could, for this cause.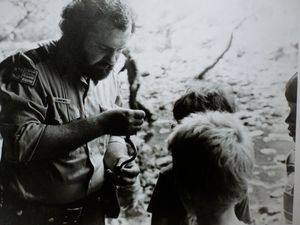 This commitment propelled me on a career that I could have never imagined. While the band was poised to take off, so was my career in the conservation field. I was offered a job as the Deputy Director of the Geauga Park District in NE Ohio and this was a pretty big deal. That park system had just passed a new levy and had a great revenue stream. It was already one of the ten largest parks systems in the state and was in a growth mode. It was a huge opportunity for me, my family, and also the cause that I was committed to.  
It was something I was excited to do and something I had to do, but it was still a crushing reality. The process of sharing this news with Mike, Bill, Vance, and Astrid was mind-numbing and heart-rending. 
Our last Regular gig was at Roy Calhoun's Saloon in Troy, and Mick Montgomery hosted a Bon Voyage show for us at Canal Street. While we had intentions of trying to remain in contact and continue to perform. Vance and Astrid came up to NE Ohio for a few shows with me, and I when down to play at with everyone a community concert with everyone. Of course, this was pre-internet and the distance proved to be too great of a barrier to overcome.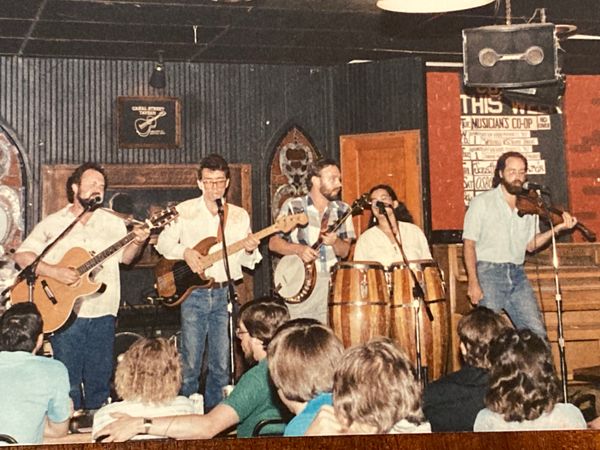 Besides my family, these were the friends who came and helped us pack for the move. Bill even rode up to Geauga County and helped us unload.  
Bill joined a band that toured the Mid-East and ultimately moved to Nashville. Michael began performing with the Michale Colter Band, Vance played with John Kogge and developed his professional sound company and Astrid performed as a solo artist for a while. 
I was blessed with a remarkable career and have been involved with dozens of projects that many people in the conservation field would consider once-in-a-lifetime experiences. I have served as the Director of three of Ohio's largest park systems and contributed to the preservation of thousands of acres of open space and over thirty miles of river frontage. I've interacted with influential businessmen and powerful politicians and even so, in review the old recordings of this band I found myself wondering if I made the right decision.  
So humbled to play once again with these folks!