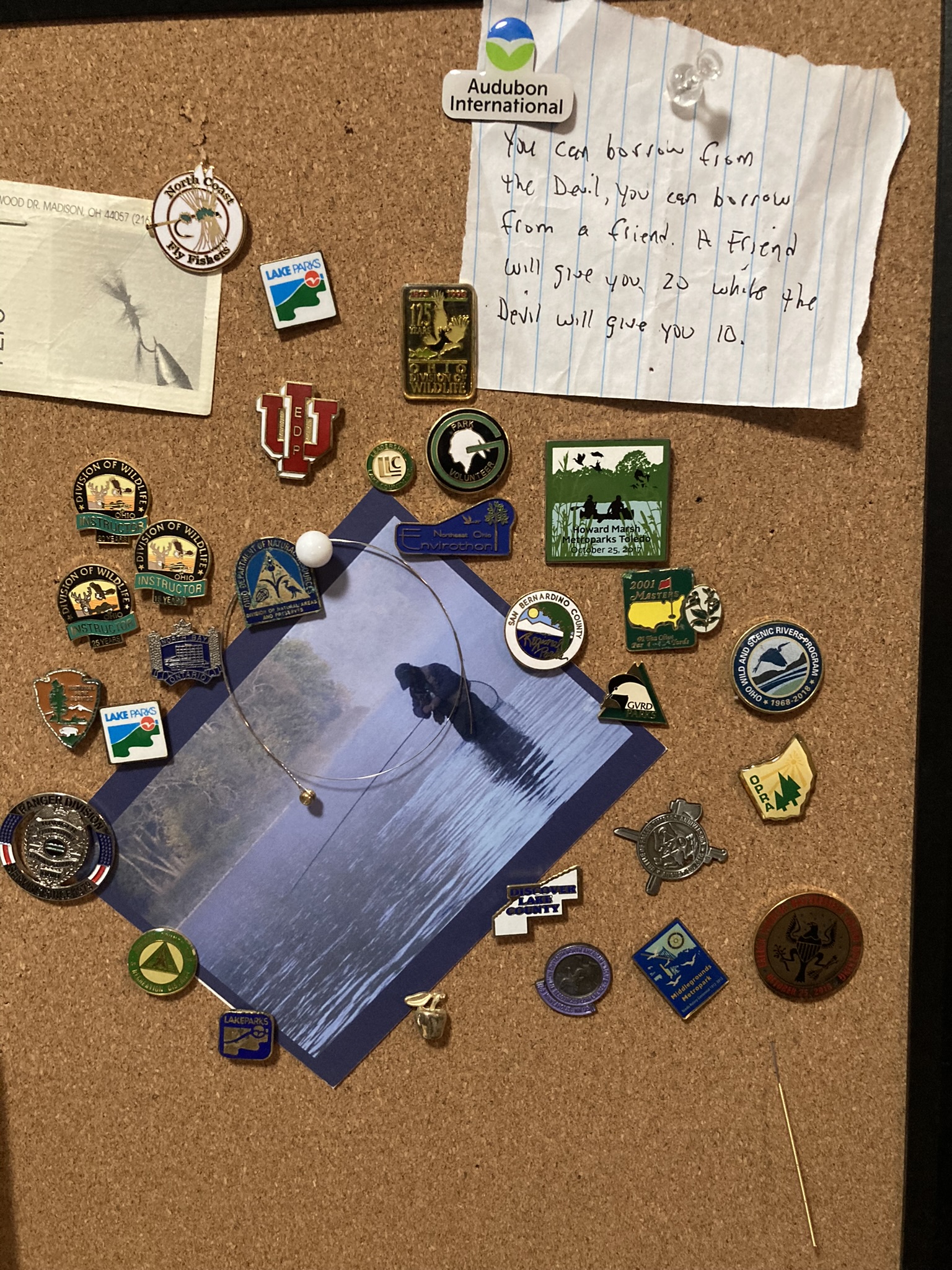 The Green E. Groundhog and Litter Prevention Lapel Pin…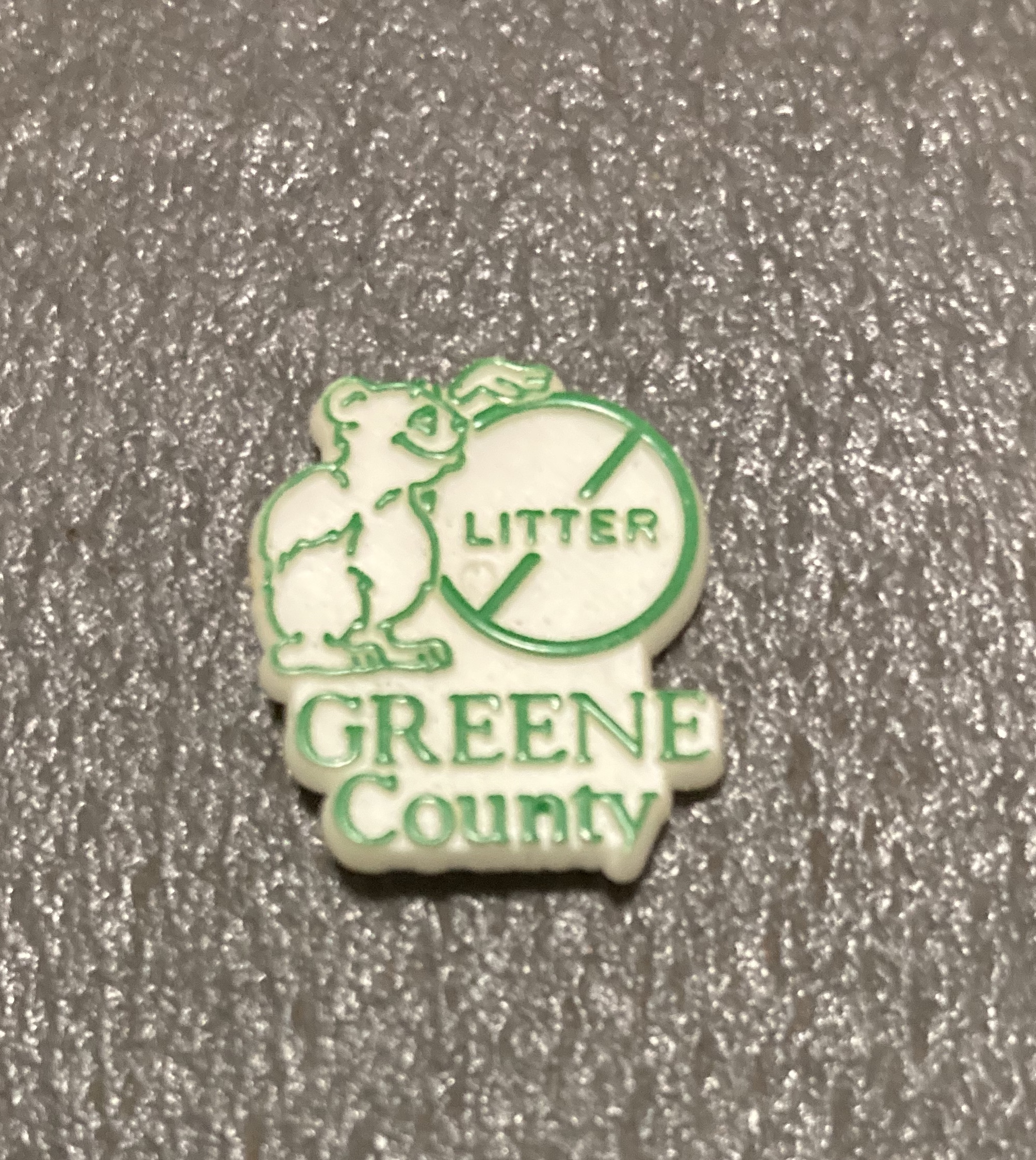 Quite possibly the first lapel pin I ever received. It is a token from a program funded by a state of Ohio Litter Prevention grant awarded to the Green County Parks and Recreation Department in, I believe 1982. As innocuous as this sounds, this grant program was pretty important to the park system. 
Ronald Regan began his presidency in 1981, and while he couldn't repeal the budget that had been passed by congress, he refused to sign authorizations to release money for certain federal programs. Ed Dressler was the director of the GCR&P department and he was all about grants.  As a matter of fact, the department was primarily funded by grants. When the president closed the federal cash flow, the park system lost 70% of it's anticipated operating funds. It seemed the whole country was caught up in a wave of NEO conservatism and the county had adopted an attrition policy, forgoing any new or replacement hires for "non-essential" positions. As it turned out, the fellow who had hired me, John Humston, took a job in another county, and it was unclear if his position was going to be filled. When John left and the first way of budget reductions kicked in, I went from being in a department of two full-time and 4 part-time folks, to being the "Lone Ranger".    
These were interesting times. 
The funding reductions came in waves, and I got the word in February that I was technically unemployed. Let me explain what I mean by I got the word. I was attending the Cleveland Metroparks Ranger Training Academy, and I was summoned out of class to take a phone call. The assistant director of the park system, Ed Bice, was calling me to let me know that the funding source I was being paid with had also been suspended. I was in a 6-week training program that was 2 weeks on and 2 weeks off, stretching over three months. I was halfway through the second session, staying at a cheap hotel, with the county vehicle. I asked Ed what should I do with the vehicle since I was technically not a county employee. He said to continue going to the classes and we would figure something out. MJ and I and our two daughters, had just moved into a park house, so this added to the uncertainty. 
Long story short, Ed D and Ed B were able to find some money to keep me employed for the remained of the year with another grant program through the Juvenile Court system. Seems that the Federal Justice Department funds were exempt from the President's discretionary control. So for the next 9 months, I supervised teenagers who were one offense away from being incarcerated, while working on park projects.    
That year Ohio had a "bottle bill" on the ballot, that failed. It would have required a deposit on all beverage containers. The fast food, and beverage industry offered an alternative program in their campaign against this issue. They funded a three-year grant program to educate Ohioans on the evil of littering. It was really absurd, but our agency was a wreck and we had some creative people, including a couple of very good grant writers. For three years we received the largest litter prevention and education grant awards in Ohio and we used that money to creatively restaff. I think in total we received over $350,000, in those days, that was a substantial slug of cash, and a heck of a lot of bru-ha about litter.
Some of the programs were so convoluted it was painfully like the TV sitcom "Parks and Recreation." One of the objectives of the educational program was to declare Greene County a litter awareness area. We had a mascot, Green E Groundhog, a parade float, t-shirts, billboards, special trash cans, activities, and handouts… such as this plastic lapel pin.