Old Friends New Beginnings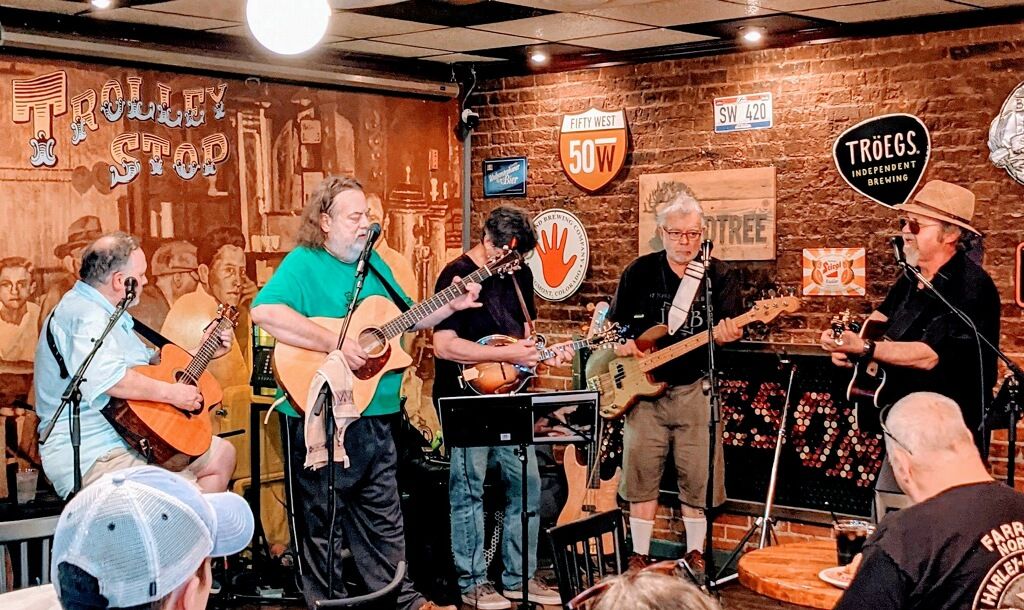 Sunday I had the pleasure of playing music in a place I have not performed in for at least 30 years. A place where I had played perhaps 200 times, maybe more. And, I was with working with some incredibly talented people.   
Which included first and foremost my long-time friend and remarkable bass guitarist, Vance Wissinger. The first time we played together, I was in 8th grade and Vance was a sophomore in high school. And we have been making music ever since. We played in a great high school band Wissinger Palace and several college bands. We both attended Miami University in Oxford where we played music together with some very fine people and some wonderful players.   
Fred Rice and Vance were in a band called "Waterfall" along with Pete Garst, Bob Hollister, and Gary Wetzel and after the band dissipated, Fred, Vance, and I formed another Oxford group called "Imagine That" featuring Caroline Quine and Dave Young.  
I left Oxford and Imagine That in 1978 and started performing solo at the Brewery in Troy. My first performance at the Trolly Stop in Dayton was late '78 or early '79. Ultimately, Vance joined me for many gigs and we played there for the next five years or so as a duo or with other guests. Vance and I played there several times before I moved to northeast Ohio with the "Steve Madewell Band" which included Astrid Socrates, Bill Baldock, and Michael Clutter.   
    
I moved up to NE Ohio in the mid-80s' and for several years Vance drove up to play with Al Bonnis and me, or Chris Otto and I, but that is a long drive for a weekend gig, and Vance's needed to stay home to help his folks as they aged.   
Over this forty-year-plus period, whenever Fred was back around we would try and get together to play. In addition to Ohio, Fred lived in Arizona, Hawaii, and Oklahoma, where he currently lives. These get-togethers were always special.  
Fred has always sought out new people to play music with and often found some remarkable players in the process. That is how I came to be introduced to Terry Pender back at Miami. Terry, Fred, and I jammed around a few times and I remember being astounded by their talent back then.  
Fred and Terry were always talking about another stellar young player by the name of Brian Buckley and I finally got a chance to me him when I was visiting Oxford for a party.  
   
The first and only time that Fred, Terry, Brian, and I played together, we did two songs, Old and In The Way, and the Hobo Song. This was at a pickup jam in Oxford in the late spring of 78 or 79.   
And that was the last time that the four of us, Fred Terry Brian and I were in the same room, that is, until Sunday afternoon.   
The last time Fred was in Ohio was in 2019 and we had met at his mothers' house south of Columbus. I drove down from NE Ohio, Vance drove over from West Milton and Brian came up from Cincinnati and that was the first time I had seen Brian since that jam in Oxford.   
We had a great time playing in "mom's" basement and decided that we would have to do it again. And then we found ourselves in a global pandemic.   
With the travel advisories associated with the pandemic, Fred had not seen his Ohio relatives and quite a while and it was a foregone conclusion when he came to see them, we would get together and play. I thought it would be cool to meet up and play in a public space, after all, we have been performing music over all these years, why not share that with people, friends, family, and whomever?   
I ran that idea past Fred, Brian, and Vance and they thought would be a lot of fun. So I had the green light to come up with a plan. As Fred began planning this year's trip from his home in Oklahoma to Ohio, I started casting about to find a venue where we could play.   
As I was looking for venues I was also trying to find a few dates that could fit into our collective schedules. Brian is often playing out in the greater Cincinnati area, Vance is a busy professional sound engineer, and I have a fairly regular gigging schedule too. Once we found a few dates, the pressure was on to secure a place to play.   
I was looking for venues around Columbus or Dayton and through nothing but coincidence, the Trolly Stop floated to the surface.   
The owners of the Trolly had found some old pictures of musicians in the basement and didn't know who was in the photographs. They turned to Jill Witherspoon who managed the club years ago and she immediately recognized most of the performers which included Vance and me. She turned to me to see if I knew any of the others.   
These photos were taken in the early 80s' when the Trolly Stop was having music 7 nights a week. In the late 70's "Cotton" was playing on Sunday night, I started playing on Saturday nights and then expanded to Friday and Saturday. Within a year, Dow and Astrid began playing Monday through Thursday and the Trolly was "a buzz".    
And ultimately, the discovery of those photos led to the conversation about the Trolly Stop becoming the host venue for the "Old Friends, New Beginnings" show and Jill shared the notion to the owners, Robin and Chris.   
I didn't want our performance to compete with or displace any other musical acts and I didn't want it to be a late-night gig. As it turned out, the owners thought a Sunday 2:30-5:30 afternoon show would be great.   
Brian, Fred, Vance, and I were all excited about the idea of playing together in a setting that was open to the public, and we started sharing ideas for a possible song list. On one of my trips to Dayton this spring, Brian, Vance, and I were able to get together and run through a few tunes.   
Once the general details had been worked out with the club, I shared a post on Instagram and Facebook. On a whim, Brian emailed it to Terry Pender with a "too bad you can't make it" note. As it turned out, Terry who lives in New York was in the process of planning a trip to Ohio and was able to shuffle his schedule to make this date.   
And that was how it came to pass that Terry and I saw each other for the first time in decades.   
   
On Sunday, June 27th at 2:30 we started playing to a nearly full house, Brian, Fred, Terry, Vance, and I. And we played none stop for an hour and fifteen minutes, took a twenty-minute intermission, and played for another hour.    
   
We all had friends from high school, friends from college, work friends, social friends, family, and people who just showed up. I heard many comments on the timeless connection that seemed readily apparent between the five of us as we played. When we returned from our intermission we were joined by Gary Wetzel who had driven up from Alabama just for this show!  
It is hard to verbalize the feelings that come with an experience like this, but it did reaffirm several things. First of all, music can create an incredible and seemingly timeless bond between players. Secondly, an audience responds to the emotion of the performers, and the performers in turn are fueled by this response and this is nearly intoxicating. Yesterday was a very emotional performance! And when that emotion is joyful, the entire experience is a wonderfully uplifting event.  
Yesterday was a joyful day for a lot of people and validated why I have continued to perform music. Despite work schedules, contract issues, equipment glitches, bad venues, off nights, and tough crowds when it comes together like it all did this week, all the hard times are forgotten.  
It feels good to make people happy. 
It is good to be happy.